An Automotive Adventure on the California Coast.
written by Jacques Vaucher, edited by James Karthauser
Monterey Week has come and gone, having been held August 17th to the 26th. The motoring world converged on the Peninsula for a 10 day long event that was packed with racetrack activities, the Concours d'Elegance and other automobile shows, numerous manufacturers' meetings, car club reunions, forums, vintage car auctions and so much more. I had the privilege of attending, speaking and showcasing items from the gallery, accompanied by my wife Karen, and let me tell you, it was great fun, though exhausting!
Several Classic beauties lined up at the Concours on the Avenue at Pebble Beach.
Photo courtesy of My Car Quest
My Week started on Tuesday, at "Concours on the Avenue," with a nice representation of sports cars from the 1950's through the '70's. The event featured a great lineup of beautiful automobiles from most of the manufacturers from around the world, which filled Ocean Avenue in Carmel. A big thank you to our old friends Genie and Doug Freedman for organizing this spectacular event and then inviting us to the Concours Luncheon at the Cypress Inn, Doris Day's Hotel and Restaurant in downtown Carmel.
Our Gallery. We brought plenty of exquisite pieces and
everyone wanted to see them.
Wednesday we started setting up and laying out our gallery for the weekend at the Spanish Bay Inn for the Retroauto Show at Pebble Beach. Afterward we were invited to Rich Attwell's house for diner, to celebrate his 40th consecutive year of exhibiting his spectacular pre-war cars at Pebble Beach. Good fun with friends, clients and consignors was had by all.
Thursday we opened our gallery for the show. The Retroauto Show was wonderful, we were reunited with old friends, new friends were made and many beautiful memorabilia and art pieces were seen and changed hands. Our little gallery had a very successful day, selling various vintage posters and two exquisite sculptures by Larry Braun. Our pieces were so in demand, a line formed at our booth to purchase an item or two we had on display.
A closeup of our Gallery Table including one of the Larry
Braun sculptures that we sold during the week.
That evening we went to meet a few french collectors and friends at the Mission Ranch,
Clint Eastwood's Restaurant. We had a great dinner in a beautiful setting and were honored by Mr. Eastwood's presence. He seems to be in great form. In the mid '70's when I worked at Chinetti Motors, I sold him one of the first Ferrari 365 Boxer that we imported and federalized.
Friday we were back to work in our gallery, we continued selling some nice pieces of automobilia. In the afternoon I was part of a panel for a forum on collecting automotive memorabilia. I gave a short talk on the subject and answered questions about vintage posters, automotive mascots, paintings and sculptures. Some of the speakers were experts on vintage factory literature, books, new and old, enamel signs and petroliana. It was definitely a fun discussion about a subject I am most certainly passionate about and that I greatly enjoy. That night with a few friends we went to have a fondue in a Swiss restaurant with Murray and Susan Smith and some of their friends.
2018 Ferrari 488 Pista Spider. Pebble Beach Concours d'Elegance, Photo Courtesy of YouTube
Saturday was our last day in the gallery, we continued to sell more interesting automobilia. Pebble Beach is definitely a great place for finding, selling or trading collectibles, as the crowd is filled with educated collectors that greatly enjoyed what we had to offer. Later in the day, we had to dismantle our little gallery and then we went to see how the Goodings and Co auction was progressing. They had some of the best cars ever built on the block, and some of them went for unbelievable prices. After the auction, we returned to the house we rent every year with Francois and Pamela Sicard from Connecticut, and sat down for a relaxing dinner. Francois, who curates David Letterman's car collection, had brought a 275 NART Spyder at the auction from Italian car collector Lawrence Auriana's collection. The Car was to be displayed at an exhibit on the Ferrari Stand for the introduction of their new Spyder. He also brought the first Osca race car built in 1948 to exhibit at the Concours the next day.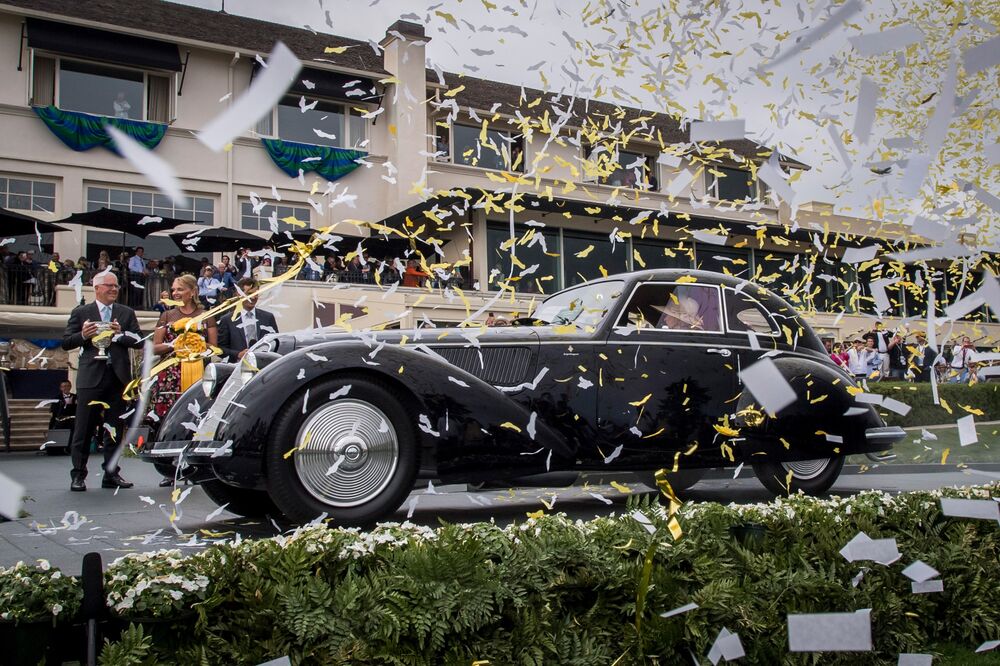 A 1937 Alfa Romeo 8C 2900B Touring Berlinetta, owned by David and Ginny Sydorick, took
Best of Show at the 2018 Pebble Beach Concours d'Elegance. Photo Courtesy of Bloomberg
Sunday, is Concours Day. After making a stop at the artist's tent on the field, we took a stroll on the green to peruse all the spectacular machines on display. From Francois' Osca, as well as other examples of the make, to Classic Tuckers, Scarabs, Vintage Ferraris, Maseratis and Delahayes and all the other magnificent pre-war cars, including the Alfa Romeo 2900 that won best in show, a truly colossal collection of beautiful automobiles was arrayed for our viewing pleasure. After touring the Concours, we were invited to a collector's suite at the lodge to watch the parade of class winning cars going up across the podium and the awards presentation. I have to say it was a great day, especially if you are passionate about cars.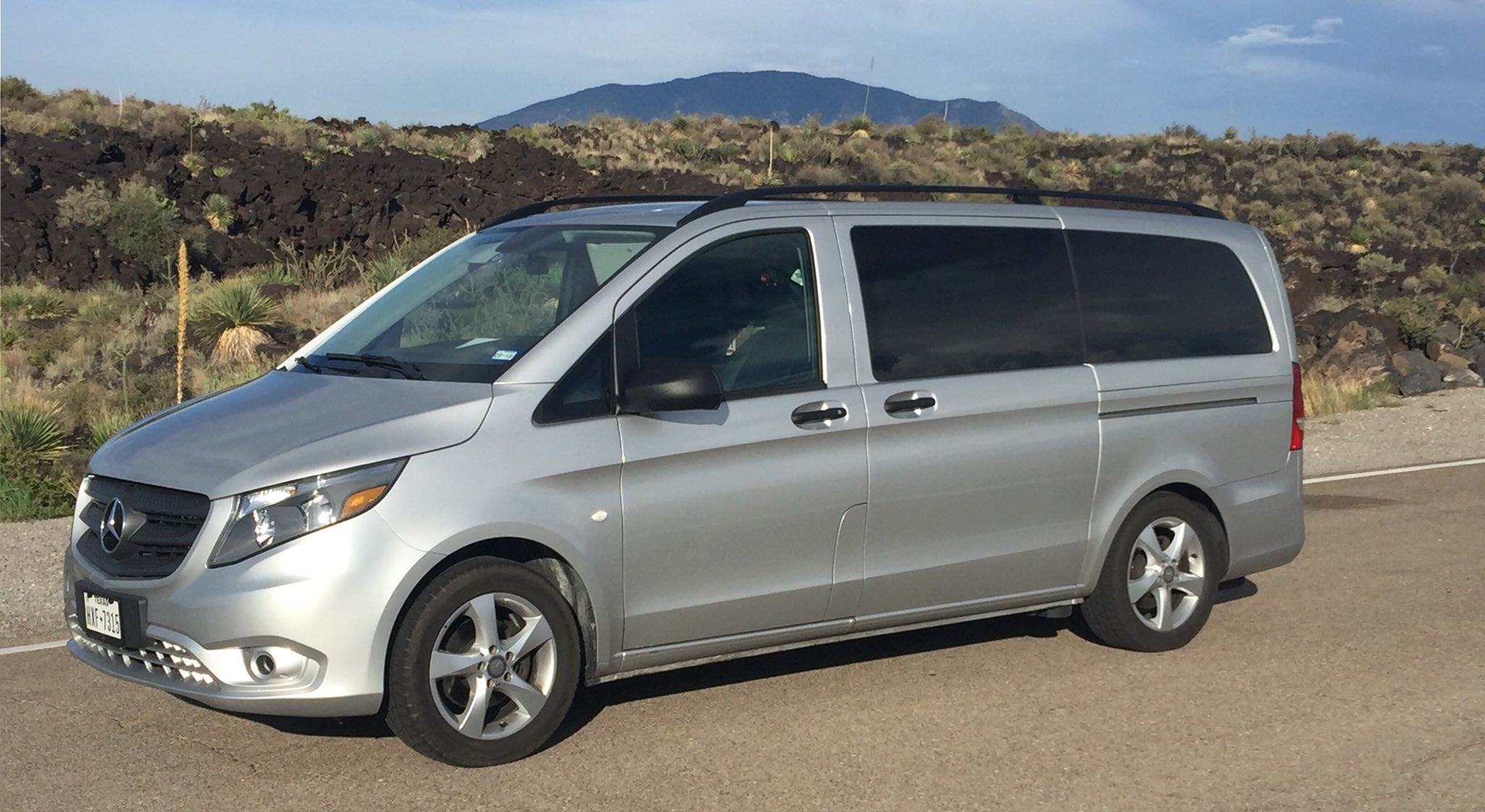 The l'art et l'automobile van, returning to Texas
Monday it was time to return to the Ranch in Texas, trading our automobilia collection for our animal collection. I have found every year that the festivities at Pebble Beach and the Concours are most fulfilling, and I have and hope to continue to enjoy them form many years to come.
Vive le Concours!
Jacques
For more great automotive memorabilia, don't forget to browse the many other categories on our Website. Remember we also have many more items in our gallery, do not hesitate to contact us if you are looking for something in particular.

And as always, be sure to Like and Share on Facebook, Follow us on Twitter, share a photo on Instagram and read our Blogs.