Originally Written by - Gerald Donaldson
Jim Celebrates his win at Watkins Glen
He never intended to make racing a way of life, let alone become the best in the world in a sport that for him began as farm boy's hobby. And when the sport took Jim Clark's life the racing world mourned the loss of one of its best-loved champions, the unassuming Scottish driving genius whose personal integrity and admirable human qualities endeared him to fans and rivals alike. Nearly invincible in the car, he seemed vulnerable out of it and was always a reluctant hero. Few champions were as dominant. Fewer still are remembered so fondly.
James Clark, junior, was born on March 4, 1936, and brought up with his four sisters on the family farm in Scotland's Berwickshire hills near the border with England. There was plenty of room to roam around the Clark's large acreage where flocks of pedigree sheep grazed peacefully and where Jim Clark would always feel most at home. It was worlds away from international motorsport, a subject he first read about in books and magazines when, at 13, he went to a private school in Edinburgh, where he also played cricket and was quite good at hockey. When it came to using vehicles for sporting pursuits Jim had to overcome parental opposition to using them for anything other than utilitarian purposes. Having first driven the family car around the fields in secret, and then been allowed to drive farm tractors alone, Jim got his driver's license on his 17th birthday, by which time he had left school and was working full time on the farm. For personal transport he bought a Sunbeam Talbot and in 1956 began using it to compete in local rallies and driving skill tests. He soon graduated to winning club races in a variety of sportscars entered for him by wealthy enthusiast friends, without whose encouragement he might have progressed no further. When he won he found being the focus of attention embarrassing. He also felt guilty about racing against his family's wishes. Goaded on by his friends, the reluctant racer began to take it more seriously, demonstrating an outstanding natural talent that amazed everyone, and certainly surprised the man himself.
Jim Clark in the cockpit of his Lotus 49 with the Ford DFV V8 engine behind him; Clark won the 1967 Grand Prix of Holland at Zandvoort with this engine in its debut race
In 1958 Clark was given a sleek little Lotus Elite coupe to race at Brands Hatch, where he immediately impressed the winner in an identical car, Lotus founder Colin Chapman. Invited by Chapman to race a Lotus Formula Junior, Clark immediately excelled and was promoted to Team Lotus for the latter part of the 1960 Formula One season. In Belgium that year he suffered through one of the worst weekends in Formula One history. Early in the race at Spa Chris Bristow crashed fatally in a Cooper. Clark just managed to avoid the terribly mutilated body as it lay on the track but his Lotus was spattered with blood. A few laps later Clark's friend and Lotus team mate Alan Stacey lost control when he was hit in the face by a bird and he was killed. Clark admitted that the gruesome disasters nearly put him off racing forever. Thereafter he hated Spa with a vengeance and yet he would win there four times in succession.
In 1961 his first complete Grand Prix season was blighted by his involvement in a collision at Monza with the Ferrari of Wolfgang von Trips. Though Clark was innocent and unhurt, the death of von Trips and 14 spectators left him devastated and again he seriously considered retiring. But he was persuaded to stay by Colin Chapman, whose brilliance as a designer was developing along with the emerging genius of his star driver.
Jim, Airborne in his Lotus at the Nurbergring
Over the next four seasons the Clark-driven Lotus was mostly only ever beaten when the mechanical side of the equation failed to deliver. Chapman's innovative Lotus chassis powered by Climax V8 engines were exceptionally fast but notoriously unreliable. Clark only lost the 1962 championship because of an oil leak in the last race. In 1963 everything held together and he stormed to victory in seven of the championship races and easily won his first driving title. In 1964 he was again deprived of the championship in the last race by an oil leak. In 1965 he won six of the 10 races and his second World Championship.
By now Clark and Chapman were as close as brothers. Chapman greatly admired his sincerity, humility and personal integrity and said Clark was as impressive as a human being as he was driver. Clark was not technically-minded and relied on Chapman to translate his comments into engineering solutions. Even when the car was not right Clark's natural talent enabled him to drive around problems, though he often said he had no idea where his speed came from.
Jim was reserved in public, but invincible in the car.
The public warmed to the shy champion who shunned the limelight, which now extended to America where he became a star after winning the 1965 Indianapolis 500. He hated press conferences and was visibly uncomfortable making public appearances. Though admired and well-liked by his peers, none of them knew him well. Graham Hill and Jackie Stewart, both self-confident extroverts, found Clark to be just the opposite. In the car he was the epitome of calm and controlled aggression. Out of it he constantly chewed his fingernails and was surprisingly indecisive, and had trouble choosing which restaurant to eat in.
His championships brought him wealth and he became a tax exile in Paris. He drove to the races in a Lotus Elan (and later flew a Piper Twin Commanche he bought from Chapman), often with a female companion. He never married but confided to a girlfriend that his ambition was to settle down and have a family of his own on the farm in Scotland. He deliberately kept his contracts to a year at a time so he could be free to leave when he wanted.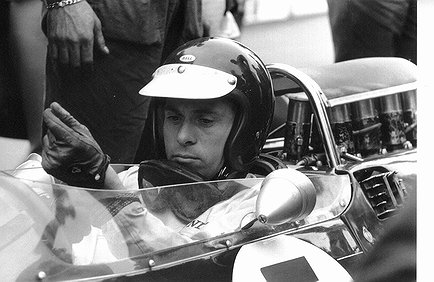 Jim Clark, Back in the Cockpit.
He nearly left after Lotus was less competitive in 1966, though his patience was rewarded with a return to form the next season. A victory in the first Grand Prix of 1968 brought his total to 25, eclipsing the previous record set by the great Fangio. Like Fangio, Jim Clark seldom ever made a mistake and had very few accidents - which made his sudden death all the more difficult to comprehend. On April 7, 1968, his Lotus had a tyre failure in a F2 race at Hockenheim in Germany and he was killed. The racing world was in shock and many felt the heart had gone out of the sport. Colin Chapman said he lost his best friend. Graham Hill said what he would miss most was Jim Clark's smile.
We here at l'art et l'automobile remember all the great heroes of the Track, in particular when we lose them, like we did this great champion. Jim Clark will live on in our hearts and minds. In that vein of remembrance, we have gathered several Jim Clark artifacts as well as Formula 1 and 2 memorabilia into one place, and present them to you. Feel free to Peruse the collection
here
and take a piece of history everyday.
Jacques Vaucher
Owner
l'art et l'automobile